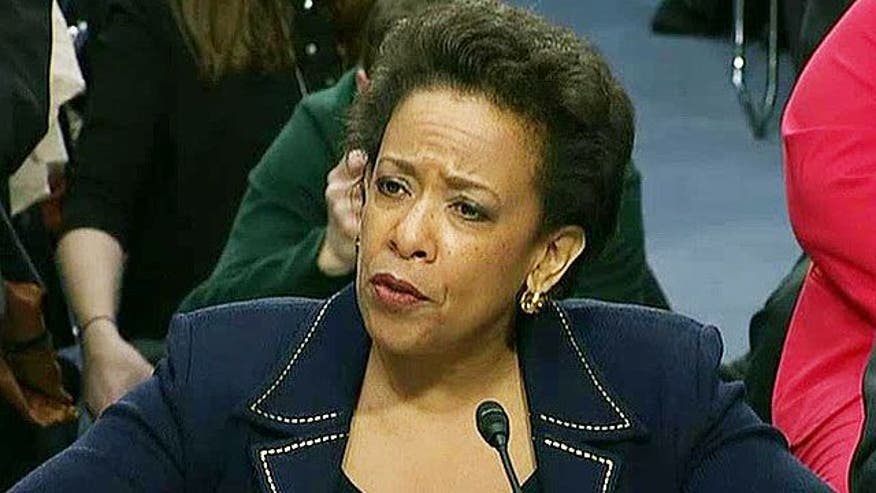 Attorney general nominee Loretta Lynch backed up President Obama on his controversial immigration executive actions during her confirmation hearing Wednesday — while going as far to say she believed in an illegal immigrant's "right" and "obligation to work." 
Lynch, who is in line to succeed Eric Holder if confirmed, fielded a barrage of questions on the opening day of her Senate hearing on the Obama administration's moves to spare millions of illegal immigrants from deportation and offer them work permits. 
In a carefully worded response, Lynch told lawmakers on the Senate Judiciary Committee she's read the Office of Legal Counsel opinion and other papers that helped justify much of what the Department of Homeland Security is doing. She said they seem a "reasonable discussion" of the law. 
"I don't see any reason to doubt the reasonableness of those views," Lynch said, adding that the department always must review such matters "carefully." 
While clarifying it's not her role to "support or not support" the legal justification, Lynch went on to back up components of the administration's policy. 
Under questioning from Sen. Jeff Sessions, R-Ala., who asked whether legal residents or illegal immigrants have more of a right to a job, Lynch said everyone should be able to work. 
"I believe that the right and the obligation to work is one that's shared by everyone in this country regardless of how they came here," Lynch said. "If someone is here, regardless of status, I would prefer that they be participating in the workplace than not participating in the workplace." 
She acknowledged there's no civil right in the law for illegal immigrants to get citizenship and that employers still have to abide by the nation's immigration laws. 
Lynch also said DHS's effort to prioritize deportations by focusing on removing the most dangerous criminals seems a "reasonable way to marshal limited resources." 
The immigration issue dominated the opening day of the hearing. 
Sen. Chuck Grassley, R-Iowa, chairman of the committee, was highly critical of Obama's plan to spare millions of illegal immigrants from deportation as he questioned Lynch on the matter. 
He told Lynch that "common sense" would dictate it is "impossible" to apply such an exception on such a broad basis. 
Lynch, while backing the "reasonableness" of the legal guidance, repeatedly reminded lawmakers she was not involved in the immigration action review. 
Republican lawmakers also sought to probe whether Lynch would bring a different style to the leadership of the department than Holder, who has had a contentious relationship with Congress. 
Grassley, in his opening remarks, said he wants to know if the nominee can "fix" the department — which he called "deeply politicized." 
Grassley suggested the attorney general post has been used to represent Obama, not necessarily the American people. He complained that legal memos have sanctioned "the unprecedented authority that [Obama] claims to possess." 
He said those opinions should be impartial. "They shouldn't be transparently self-serving attempts to justify whatever the president or an attorney general wants to do for political reasons," Grassley said. 
Later on in the hearing, Lynch assured lawmakers: "If confirmed as attorney general, I will be myself. I will be Loretta Lynch." 
Wednesday's session was the first Republican-led confirmation hearing of the Obama administration, with Republicans in control of the Senate for the first time since Obama took office. 
If approved, Lynch would become the first black female attorney general. She is now the U.S. attorney for the Eastern District of New York. Lynch would replace Holder, who announced his resignation in September after leading the Justice Department for six years. 
Holder was a lightning rod for conservative criticism and clashed with congressional Republicans. By contrast, Lynch has already earned praise from several of the GOP members of the Judiciary Committee and is widely expected to win confirmation. 
But first she faces tough questions from committee members on immigration, police misconduct and other issues. 
Grassley's opening statement reflected lingering concerns that the president has taken questionable executive actions and used the Justice Department to help justify them legally. 
Lynch was also asked early on about the controversy over the IRS targeting Tea Party groups and other conservative organizations when they applied for tax-exempt status several years ago. Addressing some confusion over whether the matter is still being investigated, Lynch said she is "generally aware that there is an investigation going on." 
Lynch also told lawmakers that, with several states legalizing marijuana, the drug is still illegal under federal law. 
In her opening remarks, Lynch vowed that the Constitution "will be my lodestar as I exercise the power and the responsibility of that position." She also said fighting terrorism — preventing attacks and bringing terrorists to justice — will be the department's primary mission. 
She said she looks forward to "fostering a new and improved relationship with this committee, the United States Senate, and the entire United States Congress — a relationship based on mutual respect and Constitutional balance." 
Sen. Chuck Schumer, D-N.Y., who introduced Lynch to the committee, called the nominee "eminently qualified" but said some are trying to drag "extraneous issues" into the fray because "they can't find anything in her record to point to." 
He reminded lawmakers that Obama's immigration policies aren't seeking confirmation: "Loretta Lynch is." 
Obama nominated Lynch in November 2014 when Democrats controlled the Senate through the end of the year. However, Republicans were able to hold off the confirmation process until they took charge of the Senate in January, as a result of the elections, arguing committee members from both sides needed more time to prepare. 
The Associated Press contributed to this report.
Source Article from http://www.foxnews.com/politics/2015/01/28/judiciary-panel-chairman-urges-ag-nominee-to-take-politics-out-justice/
BACKIN' UP THE BOSS AG nominee Lynch defends Obama immigration actions
http://www.foxnews.com/politics/2015/01/28/judiciary-panel-chairman-urges-ag-nominee-to-take-politics-out-justice/
http://news.search.yahoo.com/news/rss?p=immigration
immigration – Yahoo News Search Results
immigration – Yahoo News Search Results