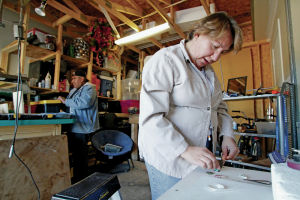 Immigrant couple crafting a jewelry business
Mayte Cárdenas and her husband, Jacinto Arriaga, work on jewelry in their home last week. Since they got married six years ago, the couple have been designing their own silver jewelry. PHOTOS BY Luis Sánchez Saturno/The New Mexican
Posted: Monday, November 11, 2013 12:00 am
|


Updated: 12:50 am, Tue Nov 12, 2013.


Immigrant couple crafting a jewelry business
By Uriel J. Garcia
The New Mexican
SantaFeNewMexican.com
Mayte Cárdenas and Jacinto Arriaga came from Mexico to Santa Fe 16 years ago with the dream of owning their own business. Cárdenas thought that a food truck would be the easiest to run, as she's worked at restaurants since she moved from Chihuahua. But Arriaga had been working for a jeweler designing jewelry for the past 11 years, and he told his wife, Cárdenas, that they should take a shot at designing their own.
Since they got married six years ago, the couple have been designing their own silver jewelry, adopting a form of art they both said they wouldn't have done if they were still in Mexico. Not that they have forgotten their home country. They have found inspiration in Aztec and Maya symbols when creating their jewelry. But they also have used turquoise rocks from Arizona and New Mexico in their pieces — something commonly seen in New Mexican jewelry.
You must login to view the full content on this page.


Or, use your
linked account:
Posted in
Business
on

Monday, November 11, 2013 12:00 am.
Updated: 12:50 am.

| Tags:


Jacinto Arriaga,

Source Article from http://www.santafenewmexican.com/news/business/immigrant-couple-crafting-a-jewelry-business/article_514cba0d-0683-5e50-8e47-ca666254a912.html
Immigrant couple crafting a jewelry business
http://www.santafenewmexican.com/news/business/immigrant-couple-crafting-a-jewelry-business/article_514cba0d-0683-5e50-8e47-ca666254a912.html
http://news.search.yahoo.com/news/rss?p=immigrant
immigrant – Yahoo News Search Results
immigrant – Yahoo News Search Results