Murrieta, California (CNN) — On a holiday marking the birth of a nation of immigrants, protesters and counter-protesters began a new round of angry demonstrations Friday in a California town that was scheduled to receive new busloads of migrants arrested for entering the country illegally.
The small southern California city of Murrieta, named after a Spaniard whose family set up a sheep ranch there in 1873, is now a national flashpoint in the U.S. immigration crisis: Protesters are denouncing the federal transfer of detained migrants to their town for processing at a local U.S. Border Patrol office.
Demonstrators successfully blockaded busloads from entering the town earlier this week.
A second convoy of federal buses carrying migrants to a U.S. Border Patrol station in Murrieta was expected Friday, and Murrieta resident Jason Woolley joined protesters to express his outrage about illegal border crossings. A surge of undocumented Central American immigrants has created a federal crisis, and some of them are supposed to be processed in Murrieta.
"There's a right way and a wrong way to come into this country. If you are going to come in the wrong way, we're not going to stand for it. That's just how it is," Woolley said. "There (are) thousands and millions of other people who've done it the right way. But for people to just come in here and ask for a free handout, that's my money."

California town blocks immigration buses

Protesters block undocumented immigrants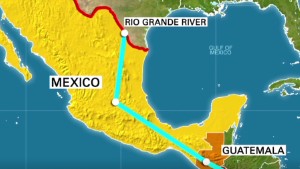 Undocumented youth seek protection
Erica Suarez of Long Beach defended the immigrants' rights to due process — and noted how the United States was built by immigrants.
"It's not a us versus we situation. It's a we. It's everybody together," said Suarez, who described herself as an undocumented student.
Police arrested at least one protester Friday morning. No further details were immediately available.
The protests have been emotionally charged, with racial slurs uttered against Latinos defending the rights of the arrested immigrants, some of whom may be refugees, the immigration rights advocates say.
But on Independence Day, protesters held placards saying, "It's not about race. It's about law."
Others said, "No human is illegal," and "No white supremacy."
Police secured the road so that entryway to the Border Patrol office is clear. A yellow police line held back the dozens of protesters.
In an apparent counter-demonstration, men and women dressed in Indian costumes danced to a drumbeat.
Protesters chanted, "USA! USA!"
Counter-protesters chanted, "La raza unida jamas seran vencida," which translates as "The (Latino) race united will never be defeated."
Police warned participants not to fight.
"We don't want anyone to get hurt. There's children here," a police officer told protesters.

Prize-winning reporter: I'm undocumented

Feds struggle controlling immigrant youths

Perry: Immigrants told what to say
The first protest
Murrieta Police Chief Sean Hadden said he was told to expect 140 immigrants every 72 hours, with the next group scheduled to arrive Friday afternoon.
But government officials are not disclosing what city the immigrants will arrive, citing safety concerns in light of Tuesday's protests in Murrieta. The town became a battleground over immigration that day as angry crowds chanted, "Go back home," and forced buses carrying immigrants to turn around.
Counter-protesters squared off with demonstrators, leading to a shouting match over the nation's immigration system.
As chaos ensued, federal officials rerouted the 140 undocumented immigrants to U.S. processing centers at least 80 miles away, in the San Diego and El Centro areas.
A tide of Central Americans illegally entering the United States has overwhelmed a system already buckling under the weight of the nation's 11 million undocumented immigrants.
Unlike undocumented Mexican migrants, who are often immediately deported, the United States detains and processes Central Americans, who are eventually released and given a month to report to immigration offices.
Protests and tension
Many never show up and join the undocumented population, according to the National Border Patrol Council, the union representing Border Patrol agents.
The immigrants rejected by Murrieta protesters were initially held in Texas, where U.S. facilities are overflowing, forcing detainees to be sent to other states for processing.
The government doesn't have the room to shelter the children with adults: There's only one family immigration detention center, in Pennsylvania. To assist the unaccompanied children, the Obama administration opened shelters last month on three military bases because federal facilities more designed for adults were overrun with minors.
Tuesday's busloads didn't include any unaccompanied minors, said Hadden, the Murrieta police chief. The children on the buses were apparently in the company of relatives or other adults, said an official with the National Border Patrol Council.
Immigration rights advocates denounced the protesters.
"It is deplorable that people espousing anti-immigrant hate language created unnecessary tension and fear for immigrant mothers and their children," Pedro Rios, a community representative of the San Diego Immigrant Rights Consortium, said in a statement. "Even more concerning is that elected officials in the city of Murrieta instigated this tension. Mothers and their children on these buses have suffered through enough trauma."
Journey from Texas
The U.S. government earlier flew the 140 Central American immigrants from south Texas to San Diego. Federal agents were busing them to Murrieta for processing at the Border Patrol station when the standoff took place Tuesday.
After the buses turned around, the immigrants were taken to a U.S. Border Patrol station in San Diego, said Ron Zermeno of the National Border Patrol Council.
The United States is struggling to accommodate an influx of undocumented immigrants, particularly a wave of unaccompanied children from El Salvador, Guatemala and Honduras. The U.S. government doesn't have enough beds, food or sanitary facilities.
Authorities estimate 60,000 to 80,000 children will cross the border without parents this year in what the White House has called an "immediate humanitarian crisis."
CNN's Kyung Lah contributed from Murrieta. CNN's Michael Martinez wrote and reported from Los Angeles, and Faith Karimi from Atlanta.
Source Article from http://www.cnn.com/2014/07/04/us/california-immigrant-transfers/index.html
Immigrant showdown
http://www.cnn.com/2014/07/04/us/california-immigrant-transfers/index.html
http://news.search.yahoo.com/news/rss?p=immigrant
immigrant – Yahoo News Search Results
immigrant – Yahoo News Search Results