When Araceli Mendez hit the 10th grade, she noticed all of her friends suddenly beginning to think about college. She was thinking about it, too. Mendez was in the top 10 percent in her class at her New York City high school, and she wanted to be a nurse someday.
That's when her parents dropped a bomb on her. Since she was an undocumented immigrant—she came to New York at age seven from Puebla, Mexico, with her parents and sister—they told her she wouldn't qualify for federal college loans, work-study, or Pell Grants.
When the time came, Mendez applied to several local city colleges and was accepted at all of them. But neither she nor her family could afford the $2,100 per semester to send her.
"I had to put everything on hold and save up for three years" working as a nanny for a family in Brooklyn, she said. Mendez's younger sister, who was born in the United States when her parents lived here temporarily, went right from high school to Brooklyn College and receives financial aid. "She could do anything she wants," she said. "I'm always telling her how lucky she is."
When Mendez, now 21, finally enrolled in Borough of Manhattan Community College this winter, a counselor approached her about applying for TheDream.US scholarship, a new program that is providing grants of up to $25,000 for undocumented college students. Mendez applied and won a scholarship. Two months in, she is preparing to quit her nannying job and focus on her studies full-time.
"All I'll have to think about is my schoolwork," she said. Right now, she's juggling a full course load of first-year classes; chemistry is her favorite.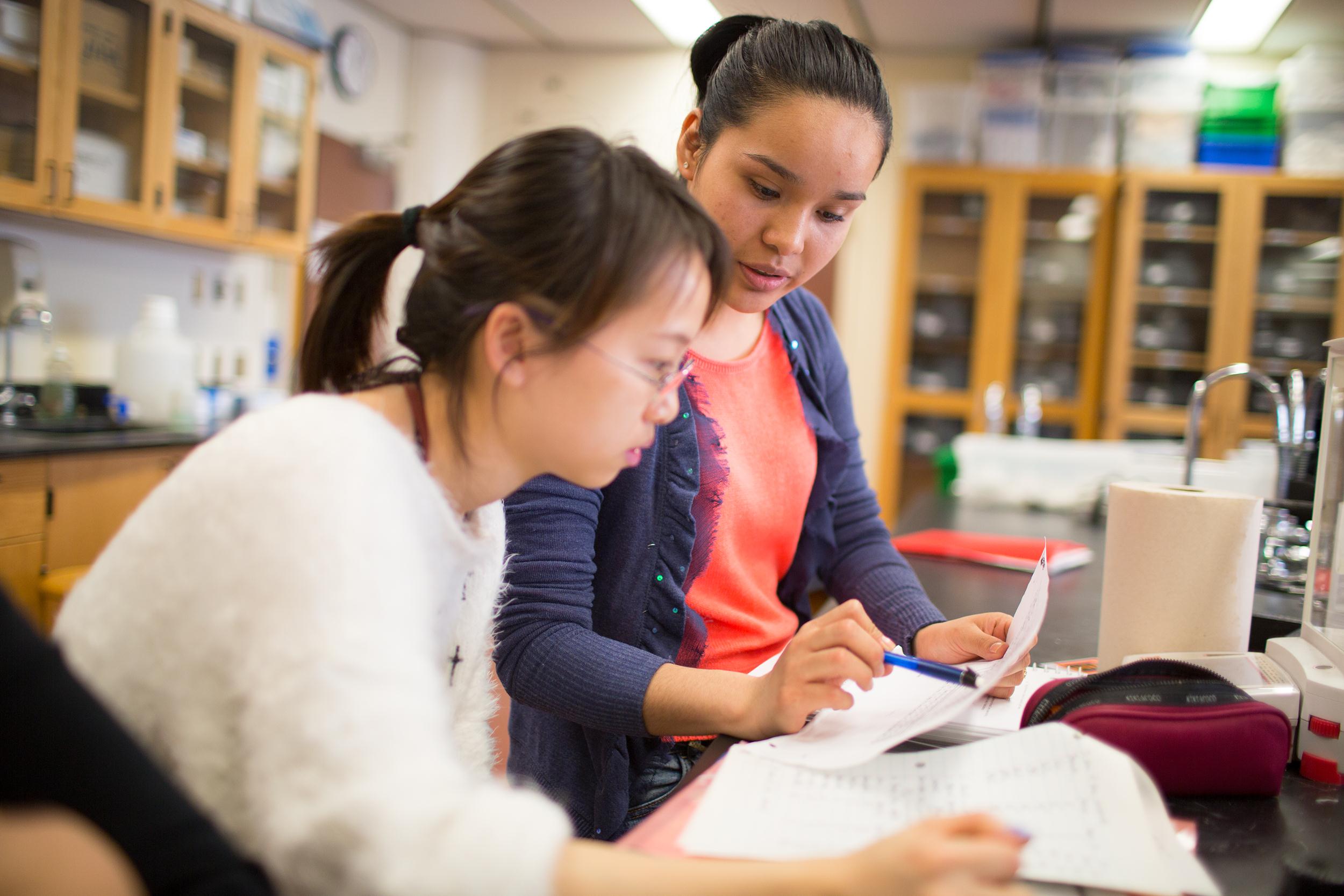 Jim Seida / NBC News
The scholarship's name is a pointed reference to the elephant in the room: the failure of Congress to pass the DREAM Act, which would provide some young immigrants brought here as children with conditional permanent residency, making them eligible for federal student loans and work-study programs. Launched last month by former Washington Post CEO Don Graham, the $25 million TheDream.US scholarship program promises to provide 1,000 students with up to four years of free tuition.
"It's a big, loud, unmistakable signal to legislators: Get your act together and let's get something done."
Mendez is part of their pilot program, which has awarded 28 students with grant money. Most of the pilot students attend community or city colleges, where $25,000 can pay for their entire education. These institutions, like the City University of New York schools and Miami-Dade College, have been deemed "DREAMer-friendly," meaning they've ensured support and counseling for these students.
The scholarship is the latest, most high-profile attempt to sidestep congressional inertia by funneling private money into helping students who would be helped by the DREAM Act's passage. Since 2008, Educators for Fair Consideration, a nonprofit based in San Francisco, has been providing DREAMers with up to $7,000 in tuition. In 2012, University of California-Berkeley announced a $1 million scholarship fund for DREAMers, a donation from the Evelyn and Walter Haas Jr. Foundation. Billionaires like Mark Zuckerberg and Laurene Powell Jobs, Steve Jobs' widow, have poured money into public campaigns supporting DREAMers.
The DREAM Act, first introduced in 2001, has gradually garnered widespread, bipartisan support in the past few years, but the legislation has never succeeded in passing both the House and the Senate. The closest it came was in December 2010, when the bill passed the House but fell five Senate votes short of the 60 needed to avoid a filibuster. In June 2012, President Obama announced an executive order protecting DREAMers from deportation, but the financial aid question continues to hang in the air.
"I'm from Washington, and things happen a bit slowly," said Graham, now the CEO of Graham Holdings Company, who has a long history of philanthropy. "Even if the DREAM Act was passed tomorrow, months would pass while Congress wrote regulations and decided on appropriations. Meanwhile, tens of thousands of these kids would be graduating."
Graham insisted he wasn't sending a message to Washington, and that his priority is educating students, but DREAM Act advocates say the fact that the private sector is picking up the slack from Congress makes a powerful statement.
"It's a big, loud, unmistakable signal to legislators: Get your act together and let's get something done," said Jose Antonio Vargas, a DREAMer himself and a board member of the scholarship fund. "An increasing number of people are in favor of [the legislation], but the ugliness of our politics have not allowed it to happen."
Philanthropists may be getting creative in the face of government inaction, but Vargas doesn't interpret TheDream.US scholarship and similar efforts as an admission of defeat on the DREAM Act.
"They're not mutually exclusive," he said. "Both things"—pushing for legislation and allocating private funds—"are happening and should be happening."
Gaby Pacheco, program director of TheDream.US, said that even if the DREAM Act were to pass, the chances are "slim to none" that it would completely reverse Section 505 of the Illegal Immigration Reform and Immigrant Responsibility Act of 1996. Such a reversal would not only provide DREAMers with in-state tuition, federal loans, and work-study opportunities—but also access to Pell Grants, which are not currently part of the DREAM Act's benefits.
"No matter what happens, there will still be a need for this population," said Pacheco. "People are just fed up with waiting around."
Private scholarships such as TheDream.US grants are life-changing for the lucky few who receive them, but experts say their impact is more symbolic than anything else. William Schwab, a professor at the University of Arkansas and author of "Right to DREAM," said the scholarship is "a drop in the bucket" and will have very little impact compared to the 1.9 million young people who may be affected by the passage of the DREAM Act. Schwab said that the only thing that can tackle this problem longterm is sweeping legislation, and that the power of the private sector lies in "their effectiveness to place political pressure on legislators," rather than the dollar amount they can provide.
"The more actors involved creating urgency, the better," he said. "And it helps that Don Graham isn't a politician."
"People are just fed up with waiting around."
Graham and others involved with the project have touted its bipartisan potential, boasting support from Grover Norquist, Jeb Bush, and other conservatives who agree that DREAMers, unlike other undocumented immigrants, are here through no fault of their own. It's logical that a scholarship courtesy of philanthropists may be more palatable than legislation because it doesn't use tax dollars and, as Pacheco said, "Americans understand that people can do what they want with their money."
But that doesn't mean everyone on the right is sold on the idea.
"It is different than using public money," concedes Ira Mehlman, media director of the anti-illegal immigration group FAIR. "But it just seems very odd that they would set up a fund specifically earmarked for people who are here illegally." Pointing to a "younger generation of Americans coming out of school with very dim job prospects carrying a lot of student debt," Mehlman thinks "dedicating money to people who are violating the law" should be a "low priority."
Mendez is used to hearing this point of view. She knows intellectually that the DREAM Act has a certain amount of bipartisan support, but the other side tends to sound louder to her, whether coming from her high school classmates or anonymous commenters under a Huffington Post article. She grew up hearing people complain that illegal immigrants were in gangs, they took drugs, they "just want to make a mess of the city."
Mendez considers herself lucky to have won the scholarship, but she doesn't hold out much hope for her undocumented peers in Brooklyn, most of whom have foregone college altogether because of the pricetag. She remembers the fervor and excitement surrounding the DREAM Act a few years ago, only to have it fizzle in Congress.
"After I went to a few marches, I was like, 'what's the point? They're not going to do anything,'" she said. "It doesn't seem like many people care about us…Getting this scholarship was the first time I felt like someone believed in what we could do."
Education coverage for NBCNews.com is supported by a grant from the Bill & Melinda Gates Foundation. NBC News retains sole editorial control over the content of this coverage.
Source Article from http://www.nbcnews.com/news/education/dream-come-true-new-program-funds-college-undocumented-n53076?ocid=msnhp&pos=1
Immigrant students dare to DREAM
http://www.nbcnews.com/news/education/dream-come-true-new-program-funds-college-undocumented-n53076?ocid=msnhp&pos=1
http://news.search.yahoo.com/news/rss?p=immigrant
immigrant – Yahoo News Search Results
immigrant – Yahoo News Search Results