Dana Leigh Marks has been an immigration judge in San Francisco since January 1987 and is currently the president of the National Association of Immigration Judges. The opinions expressed in this commentary are solely those of the author.
(CNN) — What many Americans are just beginning to realize is that a high-stakes drama is being played out in a courtroom near them right now. Not only is this storyline nonfiction, but it often involves life and death consequences. The courtrooms are located in our nation's 58 immigration courts, whose cases include what amount to death penalty cases heard in traffic court settings.
Known to relatively few lawyers, and even fewer members of the general public, these tribunals decide the fates of people fleeing persecution, including unaccompanied children who fear gang violence, and the futures of some people who have been living legally in the United States for so long that their native lands are a distant memory and the language of their youth feels like a foreign tongue to them.
How thousands of undocumented children are creating a crisis
At last count, over 360,000 cases were pending before only 230 immigration judges, which means the average caseload is over 1,500, almost four times the caseload carried by a typical District Court judge. They work in conditions that fans of television law dramas wouldn't recognize — no bailiffs, no court reporters, no law clerks, and often no lawyer for the respondent who is accused of being in the United States unlawfully.
How do we define being 'American'?
Over 50,000 children apprehended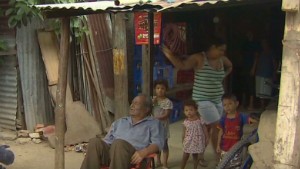 Hondurans risking deportation to survive
Clinton: Deportation makes no sense
Because immigration removal proceedings are considered civil in nature, there is no right to appointed counsel. To add to the difficulties judges encounter, interpreters for more than 260 languages are used in the immigration courts, so judges must put the stories they hear in perspective, while balancing the context of a foreign culture, unfamiliar political and social settings, and a language which may not easily translate to our American realities.
Stories from a desert bus station
Immigration judges compare these hearings to death penalty cases because an order of deportation can, in effect, be a death sentence. These cases often include a risk that the person might die if forced to return to his or her homeland, either from violence or from rampant diseases unchecked by an impoverished and/or corrupt government. But a judge cannot allow a person to stay here based on the risk — or even the certainty — of death, unless certain other technical requirements are met, despite the fact that this may force U.S. family members into homelessness or onto welfare rolls.
Texas touts border 'surge' to confront illegal immigration
For example, asylum can only be granted if the harm feared is on account of a ground recognized in the law, such as race, nationality, religion, political opinion or membership in a socially distinct group. Some who apply face violence or life-threatening conditions for different reasons, like the Haitian deportee from Florida who died of cholera-like symptoms within two weeks of of his return to his home country.
Since they are bound by a strict statutory framework, judges report a personal toll from being constrained by rigid legal technicalities, often feeling that flexibility and discretion in the law would allow them to make rulings that would be more tailored to the unique combination of factors they hear in any given proceeding.
Opinion: The immigration problem that Obama, Congress created
Watch 'Documented'
Explore the journey out of the shadows led by undocumented immigrant and Pulitzer Prize-winning journalist Jose Antonio Vargas. CNN Films' "Documented" airs Sunday, June 29, at 9 p.m.
Other cases do not involve a threat to someone's physical safety, but amount to permanently exiling someone who has grown up in this country and calls it home. Lawful permanent residents who violate the law — sometimes in ways as minor as repeated petty thefts, or because of issues which some consider to be medical conditions, like drug addiction — can be placed in removal proceedings with little relief available. These cases involve difficult balancing of the public's legitimate interest in safety and a crime-free environment against the personal needs of these people's dependent U.S.-citizen family members and loved ones.
Even though the immigration judges must keep up with a law so complex that it is often compared to tax law, they do so with precious little help. Instead of the three to four attorneys that assist most District Court judges, at present three or four immigration judges must share one attorney adviser. Because of the overwhelming caseload, immigration judges spend an average of 36 hours each week in court, on the bench, leaving few hours out of court to review submissions in pending cases, research thorny legal questions or keep current on legal developments in the fast-paced field.
For more than a decade, immigration judges have described themselves as "legal Cinderellas," mistreated stepchildren in the Department of Justice. Chronically resource-starved, the immigration courts are an oft-forgotten piece of the immigration enforcement puzzle. Since 2002, the budgets of U.S. Customs and Border Protection and U.S. Immigration and Customs Enforcement have risen 300%, while the immigration courts' budgets have only increased by 70%.
Unprecedented numbers of unaccompanied children are arriving at our borders, yet allocations to address the problems once again fail to mention the immigration courts. Many within the system fear it is on the verge of implosion, being completely immobilized by so many cases and so few resources that paralysis will result. Even the infrastructure is failing, as a catastrophic hardware failure crippled the entire immigration court docketing system for over five weeks less than two months ago.
Our immigration courts are the only face of the justice system which most noncitizens see. And, with the significant rise of mixed-status families, these decisions increasingly have far-reaching impact on the U.S.-citizen spouses, children, parents, friends, employers, co-workers and neighbors of those who appear in our immigration courts.
America's pride in our national values of due process and fundamental fairness for all must be fulfilled by providing adequate resources to these courts to enable them to provide first-class justice. Structural reform is essential, because we can no longer justify housing an independent court system in a law enforcement agency like the Department of Justice — the tensions between the conflicting missions are too strong.
There is a solution agreed upon by the majority of experts — an Article I immigration court. By configuring the immigration courts like the tax or bankruptcy courts, many of the structural flaws which have plagued these tribunals for years would be alleviated. This restructuring would enhance transparency — allowing the public to more clearly see how our immigration courts function and the monies they spend.
Most important, this reform would guarantee administrative and decisional independence, which are essential components of a true court system.
Don't let these dramas turn into tragedies. Do your part to assure that the immigration courts are not forgotten and abused. Help make the creation of an Article I immigration court a priority on Capitol Hill. Our heritage as a nation of immigrants requires no less of us.
Read CNNOpinion's new Flipboard magazine.
Follow us on Twitter @CNNOpinion.
Join us on Facebook.com/CNNOpinion.
Source Article from http://www.cnn.com/2014/06/26/opinion/immigration-judge-broken-system/index.html
Immigration judge: Like death penalty cases in traffic court
http://www.cnn.com/2014/06/26/opinion/immigration-judge-broken-system/index.html
http://news.search.yahoo.com/news/rss?p=immigration
immigration – Yahoo News Search Results
immigration – Yahoo News Search Results