A poster campaign which aims to celebrate immigration, called I am an Immigrant, has been launched.
The billboard images have caused a stir on Twitter with one user saying the initiative is great but shouldn't be needed.
The images show 15 immigrants in different occupations from a barrister to a mental health nurse and a fireman.
The campaign was created by Movement Against Xenophobia and funded through a crowd-funding appeal.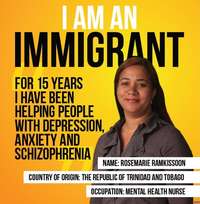 The posters, taken by Vogue photographer Philip Volkers, will appear in 400 London tube stations and 550 national rail stations and on billboards countrywide after more than £44,000 was raised for the campaign.
Habib Rahman, CEO of JCWI on behalf of Movement Against Xenophobia, said: "The extraordinary support we have received from ordinary people shows how fed up many are with the hostility and scapegoating experienced by immigrants.
"Thousands are saying they reject intolerance and want to celebrate our diverse and inclusive society."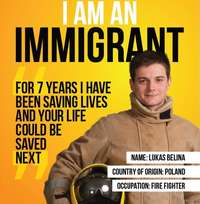 The campaign argues: "Migrants make a substantial contribution to the economy, enrich Britain's culture and improve the standard of its public services.
"The multicultural and prosperous Britain that exists today has been created through generations of immigration and accepting refugees, this is not recognized in the mainstream public discourse about immigration and asylum."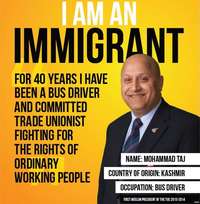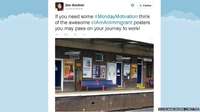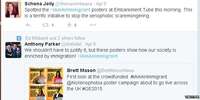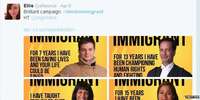 A Labour spokesperson told Newsbeat: "Immigration has made an important contribution to our economic and social life, but it needs to be properly controlled."
The Conservative party has yet to respond.
Follow @BBCNewsbeat on Twitter, BBCNewsbeat on Instagram and Radio1Newsbeat on YouTube
Source Article from http://www.bbc.co.uk/newsbeat/32284435
Immigration poster campaign launches
http://www.bbc.co.uk/newsbeat/32284435
http://news.search.yahoo.com/news/rss?p=immigration
immigration – Yahoo News Search Results
immigration – Yahoo News Search Results