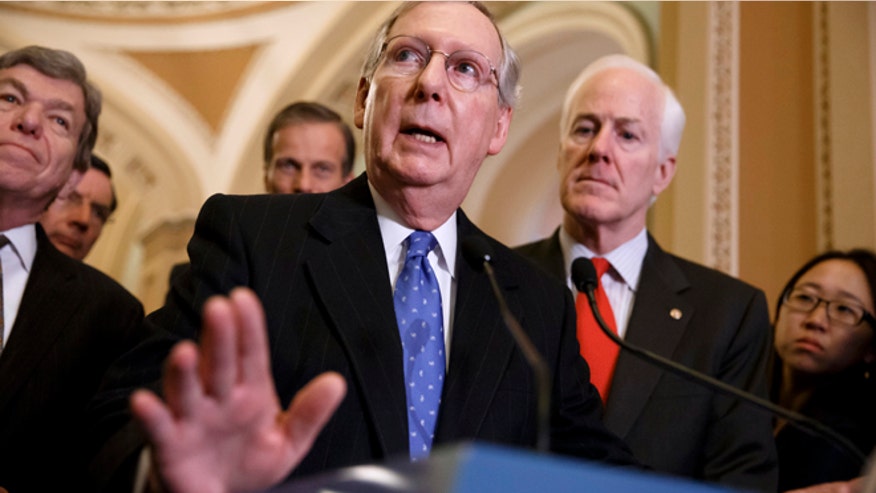 In the heat of an election year, the prospect of immigration legislation threatens to strike a divide into the Republican Party on Capitol Hill. 
House Speaker John Boehner is sending new signals that he's preparing to aggressively push for an immigration bill, even if it causes the rank-and-file headaches. But on the other side of the Hill, top Senate Republicans are picking a different fight — going after the Obama administration over reported efforts to ease deportations. 
In a letter sent Thursday to President Obama and signed by 22 Senate Republicans, they accused the administration of "an astonishing disregard for the Constitution." The reported deportation changes, they charged, would be a "near complete abandonment of basic immigration enforcement." 
The same day, Boehner was putting out a very different message in his home district in Ohio. 
During a talk to a local Rotary Club, The Cincinnati Enquirer reported, he mocked fellow Republicans for their resistance to an immigration bill. 
"Here's the attitude. Ohhhh. Don't make me do this. Ohhhh. This is too hard," Boehner said, according to the paper, pretending to whine as he talked. 
He added: "We get elected to make choices." 
This comes after he reportedly told a fundraiser crowd that he's "hell-bent on getting this done this year." 
Just a couple months ago, immigration seemed like a stalled debate for 2014. Boehner had backed off, citing concerns in the GOP rank-and-file about the administration's own allegedly lax enforcement policies. 
Despite Boehner's renewed interest, those concerns have mounted since then. 
The Department of Homeland Security is undergoing a review of its deportation policies under pressure from immigrant advocates. But Republicans have pointed out that those policies already spare millions from the threat of being removed. Statistics show that most of the 370,000 removals carried out in fiscal 2013 were people who had been caught crossing the border or convicted of a crime. 
The potential push to further rein in deportations prompted the letter Thursday from Senate Republicans — including Boehner's counterpart, Senate GOP Leader Mitch McConnell. 
"Clearly, the urgent task facing your administration is to improve immigration enforcement, not to look for new ways to weaken it," they wrote. 
In a statement, Homeland Security spokesman Peter Boogaard didn't respond to the senators' complaints but said, "The secretary has undergone a very rigorous and inclusive process to best inform the review." 
Many activists want sweeping action by Obama to give legal certainty and work permits to millions more immigrants, like he did for those who arrived illegally as children and attended school or served in the military. 
The Associated Press contributed to this report.
FOX NEWS FIRST NEWSLETTER
Daily must-read stories from the biggest name in politics
Source Article from http://www.foxnews.com/politics/2014/04/25/immigration-push-divides-republicans/mands-syria-humanitarian-plight-worse-than-ever/
Immigration push threatens to divide GOP- Boehner mocks GOP colleagues on immigration
http://www.foxnews.com/politics/2014/04/25/immigration-push-divides-republicans/mands-syria-humanitarian-plight-worse-than-ever/
http://news.search.yahoo.com/news/rss?p=immigration
immigration – Yahoo News Search Results
immigration – Yahoo News Search Results