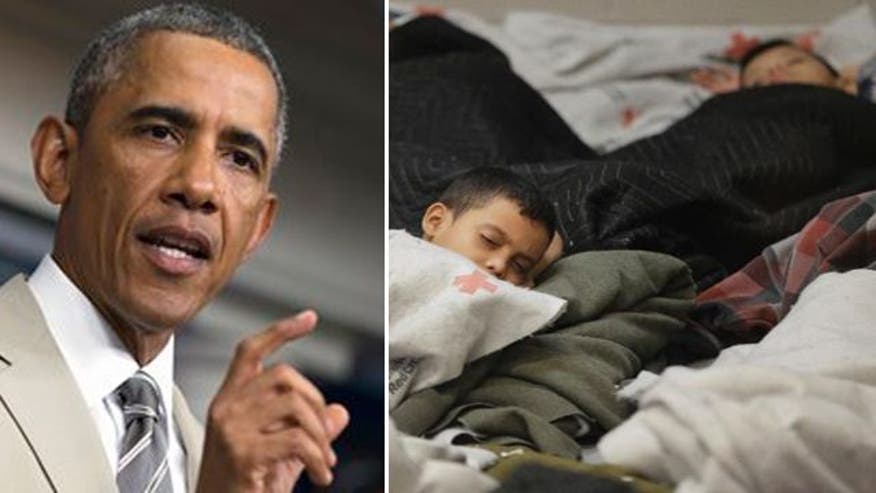 President Obama is reportedly mulling the possibility of delaying making changes to U.S. immigration policy until after the upcoming midterm elections, after Democrats in tough Senate races have argued that it could damage their chances in November.
The president had been expected to use his executive authority to ease deportations and give temporary work permits to millions of illegal immigrants. 
After Republicans in the House of Representatives voted down a version of immigration reform, Obama announced that he intended to act on his own before the end of summer in order to make what he said were urgent changes to the immigration system. Republicans claim that such moves would exceed his legal authority if he were to act without congressional approval.
However, The Wall Street Journal reports that White House officials are now debating whether to put off some or all of Obama's policy changes until after the November election, after several Democrats running in tight elections in conservative states have urged the president to do so, claiming that such a move would damage their election prospects.
Democratic Senators Mark Pryor in Arkansas, Kay Hagan in North Carolina, Mark Begich in Alaska and Jeanne Shaheen in New Hampshire, all have called for immigration reform to be addressed by Congress, not by the White House, according to The Wall Street Journal.
Obama said in a news conference Thursday that his timeline for immigration reform was unclear, and said that the child-migration crisis could affect the timing of any announcement.
"Some of these things do affect timelines, and we're just going to be working through as systematically as possible in order to get this done," Obama said.
Obama also faces pressure from immigrant-rights advocates strongly urging the president not to back down and to move forward as planned, especially as he has already delayed action once in 2014.
However, Brad Dayspring, spokesman for the National Republican Senatorial Committee, said Mr. Obama's executive action on immigration would be unpopular no matter when he made it. 
"Whether President Obama declares executive amnesty in September, October or November, he has neither the legal authority nor the public support to do it," Dayspring told The Wall Street Journal.
Source Article from http://www.foxnews.com/politics/2014/08/31/obama-under-pressure-to-delay-immigration-action-until-after-midterms/
IMMIGRATION WAIT? Obama may hold action until after midterms, report says
http://www.foxnews.com/politics/2014/08/31/obama-under-pressure-to-delay-immigration-action-until-after-midterms/
http://news.search.yahoo.com/news/rss?p=immigration
immigration – Yahoo News Search Results
immigration – Yahoo News Search Results