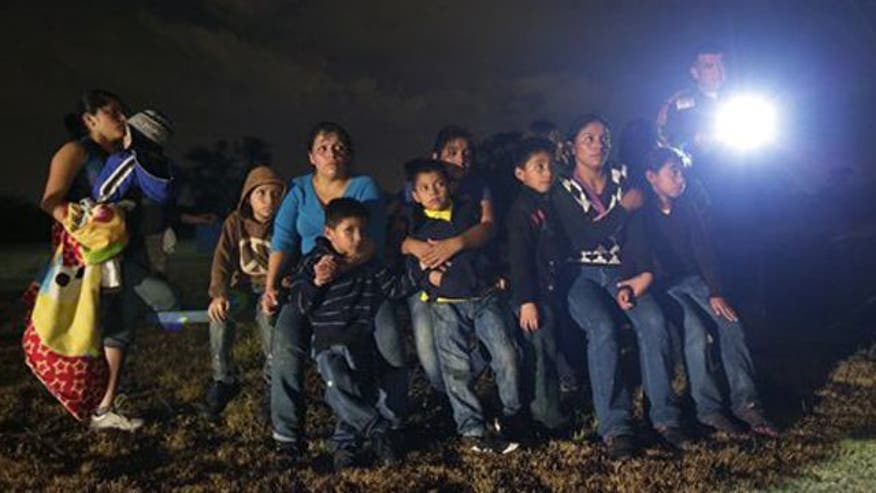 President Obama is considering executive actions to reduce the number of illegal immigrant deportations, including issuing work permits to some of the estimated 11 million illegal immigrants currently in the U.S., according to a published report. 
The Wall Street Journal, citing a White House official, reported that an announcement on any executive action is expected to take place soon after Labor Day. The paper also reported that the president began considering such an action after congressional Republicans said that they would not take up immigration reform during this session.
Obama has already exempted from deportation approximately 500,000 illegal immigrants who were brought to the U.S. as children. The Journal reports that any new action could expand the protections to their parents or other illegal immigrants, such as those whose children have become U.S. citizens, who have been in the U.S. for a certain amount of time, or who have gainful employment. 
The latest turn in the administration's immigration policy comes amid a surge of unaccompanied Central American minors arriving at the southern border. Obama has said that many of those children would likely be sent back to their countries of origin. 
Meanwhile, the House of Representatives unveiled a slimmed-down bill Tuesday that calls for National Guard troops to be sent to the southern border to aid the deportation of illegal immigrant children.  A vote on the $659 million bill is scheduled for Thursday, and is certain to be rejected by the Democratic-run Senate.
But there was no guarantee House Speaker John Boehner would be able to count on enough support to pass the bill as he aimed for a vote Thursday.
Many conservatives remained skeptical, and Reid fomented those concerns by threatening to use the House bill as a vehicle to attach the Senate's comprehensive immigration overhaul bill, which the House has rejected.
Boehner responded angrily, accusing Reid of "making a deceitful and cynical attempt to derail the House's commonsense solution."
"So let me be as clear as I can be with Sen. Reid: The House of Representatives will not take up the Senate immigration reform bill or accept it back from the Senate in any fashion," Boehner said in a statement.
According to The Journal, the Obama administration is currently debating the extent of its legal authority to change deportation policy. Any such action could result in a legal challenge, and rumors of executive action have drawn condemnation from congressional Republicans. 
"It would be an affront to the people of this country which they will never forgive, it would be a permanent stain on your presidency," Sen. Jeff Sessions, R-Ala. said on the Senate floor Monday, while urging language to block such executive action be made part of any legislation to address the border crisis.
House Judiciary Committee Chairman Bob Goodlatte, R-Va., announced plans to use an oversight hearing on the U.S. Citizenship and Immigration Services agency Tuesday to raise questions about Obama's plans, which he warned could "worsen the border crisis and encourage many more to come."
On the other side, some Democrats have debated the best timing for Obama to take executive action, raising questions as to whether acting before the midterms could hurt vulnerable Senate Democrats in close races while boosting turnout among the GOP base.
But liberal advocates noted that Obama's move on deferred action two years ago gave him a boost heading into his re-election and could help this year with Latino voters discouraged over the failure of immigration reform legislation and record-high deportations on Obama's watch.
Fox News' Chad Pergram and The Associated Press contributed to this report.
Source Article from http://www.foxnews.com/politics/2014/07/30/obama-reportedly-weighs-cutting-back-on-illegal-immigrant-deportations/
Obama reportedly weighs cutting back on illegal immigrant deportations
http://www.foxnews.com/politics/2014/07/30/obama-reportedly-weighs-cutting-back-on-illegal-immigrant-deportations/
http://news.search.yahoo.com/news/rss?p=immigrant
immigrant – Yahoo News Search Results
immigrant – Yahoo News Search Results