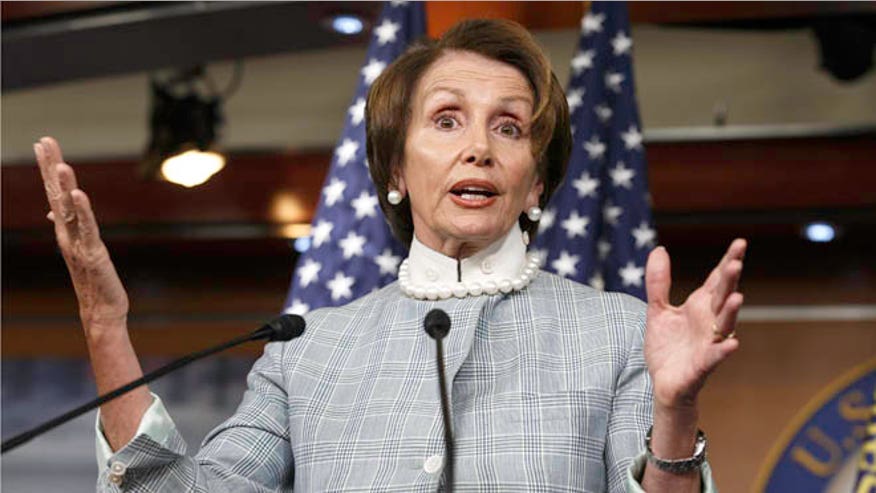 House Democratic Leader Nancy Pelosi argued Saturday that the surge of illegal immigrant children and families crossing into the U.S. is more of an "opportunity" than a "crisis" — even as the Obama administration was scrambling to free up more resources to handle the influx.  
The administration itself appears to be treating the surge as a crisis, assigning a point person — FEMA Administrator Craig Fugate — to coordinate the federal response. President Obama also plans to appeal to Congress on Monday for more funding to address the surge on the border. 
But Pelosi, D-Calif., visiting the Texas-Mexico border on Saturday, suggested those crossing should be welcomed and not treated as a problem. 
"This crisis that some call a crisis, we have to view as an opportunity," Pelosi said. "If you believe as we do that every child, every person has a spark of divinity in them, and is therefore worthy of respect — what we saw in those rooms was [a] dazzling, sparkling, array of God's children, worthy of respect." 
Pelosi acknowledged that the surge "does have crisis qualities," but again urged the public to use it as an "opportunity to show who we are as Americans, that we do respect people for their dignity and worth." 
Republican lawmakers have blamed the surge — largely made up of illegal immigrant minors trekking from Central America, through Mexico and across the Rio Grande Valley in Texas — on the Obama administration's policies, arguing that they've only encouraged more illegal immigration. 
The Obama administration, for its part, has tried to telegraph to Central American countries that their residents will not be given a free pass to stay in the U.S. 
Due to the backlog in the immigration system and other factors, however, the reality is that the U.S. government is housing many of those crossing for an indeterminate period of time. 
Obama reportedly plans to seek more than $2 billion to help respond to the crossings, and seek "fast track" authority for the Department of Homeland Security to more quickly screen and deport children crossing the border illegally.
A White House official confirmed to Fox News that Congress will be asked to approve more funding and "added flexibility" so the government can "deal with the significant rise in apprehensions of children and individuals from Central America who are crossing into the United States." 
The administration, according to the official, so far has deployed additional immigration judges, immigration attorneys and asylum officers to handle the glut of cases, and has been seeking additional space to hold some of those crossing the border. 
Source Article from http://www.foxnews.com/politics/2014/06/29/pelosi-calls-surge-illegal-immigrant-children-opportunity/
Pelosi: Illegal immigrant kid surge an 'opportunity' – Obama to reportedly seek $2B to respond to immigrant surge …
http://www.foxnews.com/politics/2014/06/29/pelosi-calls-surge-illegal-immigrant-children-opportunity/
http://news.search.yahoo.com/news/rss?p=immigrant
immigrant – Yahoo News Search Results
immigrant – Yahoo News Search Results