Washington (CNN) — Gov. Chris Christie, who has long avoided wading into the immigration debate, said Thursday in Mexico City that he won't lay out his position on immigration reform unless he decides to run for president.
"Until that time I have no role in the immigration debate, except for how it may affect the individual citizens of New Jersey, which I'll deal with as governor," the New Jersey Republican told reporters.
"But I won't have anything to say on immigration unless and until I become a candidate for president of the United States," he continued. "If that happens, then I will articulate a full position on it."
Third of Mexicans would migrate to the U.S., survey finds
Rand Paul & Christie Latino outreach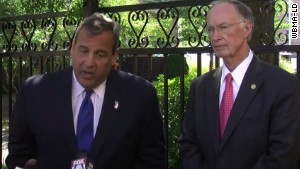 Christie leans right in the South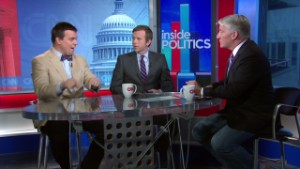 Immigration fight; Christie; Warren
His comments came on the second of a three-day trip to Mexico, where the governor is meeting with Mexican dignitaries and business leaders to build economic and education partnerships.
While Christie has repeatedly criticized President Obama for his handling of security enforcement at the U.S.-Mexico border, the governor has yet to detail his own position on legislation reform.
"I know you guys are begging to have me focus on immigration, and let me put you to rest: I'm not going to," he said, referring to the news media. "You can ask in 18 different ways … I'm not giving you the story, so you can move on to whatever your next questions are."
Republican ignoring their own advice on immigration
During a trip to Iowa in July — at the height of the crisis involving children crossing the border illegally — Christie declined to answer questions from reporters about immigration.
"I'm not going to discuss a complicated issue like immigration in a parking lot here in Marion, which really deserves a much deeper and more thoughtful conversation than we give out here right now," he said at the time, faulting "both parties" for the way they've handled the issue.
Christie: N.J. may consider housing kids from southern border influx
In June, while the governor was in San Francisco, he refused to lay out his position, again saying his current location was not the appropriate venue for such a topic.
"I'm sure you'd love me to do that," he said with sarcasm, after a reporter asked him to spell out his stance. "And in fact what I want to do in a flower warehouse, I want to give you a very complex answer behind a set of microphones on a contentious issue that's driving debate all across the country. No thank you."
On Thursday, Christie said he discussed immigration issues the day prior in a meeting with Mexican President Enrique Peña Nieto, saying they talked about how "it's a very difficult issue for both parties" in the United States and how it's Washington's responsibility to fix the problem.
Since the 2012 presidential election, in which the GOP presidential nominee won only 27% of the Latino vote, Republicans have been more aggressive in courting Latino voters. Christie himself has frequently pointed out that he won 51% of the Latino vote in New Jersey during his re-election bid.
Asked by one reporter about the importance of Latino voters for Republicans at the national level, Christie acknowledged the electoral advantages.
"The importance of it is the more votes you get, the more chance you have to win," he said bluntly. "And I don't care who those votes come from, as long as you wind up with more than the other guy, you win, you get to govern, and that's what our party should be focused on."
Source Article from http://www.cnn.com/2014/09/04/politics/christie-immigration-2016/index.html
Christie won't take stand on immigration
http://www.cnn.com/2014/09/04/politics/christie-immigration-2016/index.html
http://news.search.yahoo.com/news/rss?p=immigration
immigration – Yahoo News Search Results
immigration – Yahoo News Search Results