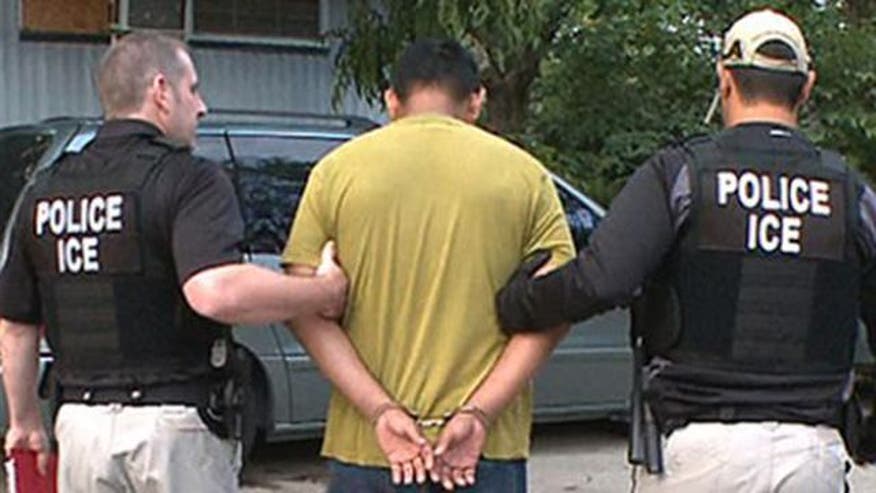 Local police agencies across the country are frustrating efforts at the federal level to detain and deport criminal illegal immigrants, leaving immigration officials scrambling to track them down.
In the last nine months, 275 counties have refused to honor requests from Immigration and Customs Enforcement that they be notified before releasing an illegal immigrant from custody.
In doing so, those jurisdictions have released some 9,000 with criminal records who otherwise would have been removed from the U.S.
In the past, these so-called "detainer requests" from ICE were routinely granted.
Now, however, the very counties that once turned over thousands of illegal immigrant felons to ICE are refusing — afraid of being sued for holding the wrong person or forced to renege by immigrant-friendly policies in Democrat-dominated districts.
According to ICE Field Supervisory Agent David Marin, police are releasing murder suspects, firearms offenders, drug traffickers and documented gang members, despite requests not to.
"Statistics show of these convicted felons, 75 percent of them are going to reoffend," Marin told Fox News, during an exclusive ride-along with a fugitive task force. "So if we can get them in the jails before they get an opportunity to reoffend and create more victims, for us it is a win-win situation. By law enforcement agencies not honoring our detainers, it really undermines our authority and our mission, which is to go out and protect the public."
In southern California, almost every police agency and jail refuses to turn over criminal illegal immigrants to ICE for removal. Instead, they're released back onto the streets where many do not have a local address.
Rep. Lamar Smith, R-Texas, urged the Obama administration to get tougher on these cities.
"If the administration is serious about enforcing the law and expediting deportations, it will hold sanctuary cities accountable and end the catch-and-release practices that undermine our immigration laws," Smith said.
Earlier this week, a Fox News producer and cameraman accompanied Marin and a dozen other agents in Orange County looking for recently released inmates.
"I was born in Mexico but I've been here my whole life," said 19-year-old Omar Del Rio, as he was processed at an ICE holding center. "I just had one conviction."
Del Rio, with tattoos visible from the Anaheim gang he allegedly belongs to, had a prior felony conviction for attempted robbery. Arrested for attempted murder in 2012, the Orange County jail released Del Rio in September. The release forced ICE to go find him, a costly and risky proposition for agents and taxpayers.
"I got arrested for something I didn't do," Del Rio argued. "That's why they dropped the charges on me. They (ICE) just caught me off guard. I wasn't expecting them."
The ACLU argues police should not treat ICE detainers like warrants.
"ICE is relying on this shortcut that casts this wide drag net that has caught U.S. citizens who have been jailed mistakenly as a result of these detainers," said Cecillia Wang, director of the ACLU Immigrants' Rights Project. "The notion that if these counties don't honor these ICE detainers [it] puts people at risk is simply a fiction."
History suggests that is not entirely true.
In 2011, despite an ICE detainer, Illinois' Cook County released 23-year-old Erick Maya for beating his girlfriend with a beer bottle and metal pipe. Free inside the U.S., two years later the Mexican national later shot and killed another woman and her mother. Cook County jail also ignored an ICE request to hold 30-year-old Mexican national Luis Pena, who was arrested and convicted for drunk driving. Less than a year later, he did so again and killed a Chicago man in a hit-and-run.
"One of the key narratives of those advocating amnesty is that we have enforced the law, the border is secured and 'we have things under control.' Thus, we can now amnesty the illegals, or so the argument goes," said Steven Camarota, of the Center for Immigration Studies. "But this is a false narrative and the failure to honor detainers and the administration's flaccid response is a great example showing we are not serious about enforcement."  
For years, President Obama claimed to remove "the worst of the worst'" criminal illegal immigrants while leaving in place the "best and the brightest" illegal immigrants. Immigration and Customs Enforcement removed nearly 2 million undocumented workers since he took office, while shielding from deportation hundreds of thousands of unauthorized youth and others who stayed crime-free.
However, roughly half those removals were initiated by the Border Patrol, not ICE. In the past, Border Patrol returns had not been counted as "removals." The number of deportations resulting from interior enforcement by ICE declined by 19 percent from 2011 to 2012, and 22 percent in 2013.
In all, some 275 counties in 42 states now refuse to honor ICE "holds" even for the most serious criminals. According to ICE data, 62 percent of the 8,811 criminal aliens released this year had been previously charged or convicted of a crime, in most cases a felony.
The sharpest drop in transfers to ICE custody came from northern California, down 53 percent. They came down 15 percent in Los Angeles, where immigrant advocates claim ICE holds can be triggered by as little as a traffic stop and needlessly rip apart families.
Colorado and California have laws prohibiting local agencies from cooperating with ICE, and several courts ruled agencies are under no obligation to comply with holds because they do not meet constitutional standards of probable cause.
William La Jeunesse joined FOX News Channel (FNC) in March 1998 and currently serves as a Los Angeles-based correspondent.
Source Article from http://www.foxnews.com/politics/2014/10/17/local-jails-refusing-to-hold-illegal-immigrant-offenders-forcing-feds-to-track/
Local jails refuse to hold illegal immigrant offenders – VIDEO: Jails refuse to hold criminal aliens for federal …
http://www.foxnews.com/politics/2014/10/17/local-jails-refusing-to-hold-illegal-immigrant-offenders-forcing-feds-to-track/
http://news.search.yahoo.com/news/rss?p=immigrant
immigrant – Yahoo News Search Results
immigrant – Yahoo News Search Results